Air-Fryer Cauli-Bites | More Smiles With Every Bite
Air-Fryer Cauli-Bites
Thank you!
Thank you for your submission for Air-Fryer Cauli-Bites.
Your submission has been received and is under review. Cauliflower has never tasted better! The smoky, crunchy combination of Stacy's® Sea Salt Pita Thins and smoked paprika gives the coating on these bites a tasty flavor and great texture. They're a delicious and versatile veggie bite. Add in the optional sauce for a Buffalo-wing inspired taste experience.
Ingredients
Email ingredients list

Invalid email

Ingredients list sent!
Instructions
Preheat air fryer to 375°F. Coat basket with cooking spray, as needed.
Place Stacy's® Sea Salt Pita Thins in bowl of a food processor; process until mixture resembles coarse meal, 30 to 45 seconds. Combine crumbs, smoked paprika, garlic powder, onion powder, ground red pepper, and salt in a small bowl. In a separate small bowl, lightly beat the eggs.
Dip each cauliflower floret into egg, then dip into crumb mixture, coating all sides. Arrange coated cauliflower in air fryer basket in a single layer. (Don't overcrowd basket, and work in batches if necessary). Spray tops of cauliflower lightly with cooking spray.
Cook cauliflower in preheated air fryer until golden brown and crisp, about 10 minutes (Different air fryers cook differently, so watch to ensure cauliflower doesn't burn). Drizzle with hot wing sauce to taste.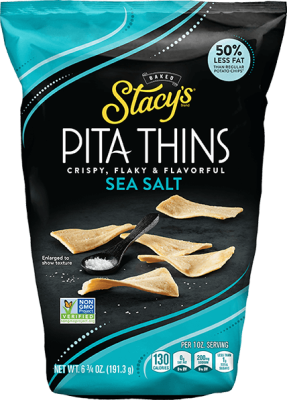 Stacy's® Sea Salt Pita Thins
Stacy's® Sea Salt Pita Thins