Chili-Lime Crunch Salad | More Smiles With Every Bite
Chili-Lime Crunch Salad
Thank you!
Thank you for your submission for Chili-Lime Crunch Salad.
Your submission has been received and is under review.
This recipe is a snap to make - rich in flavor with a great crunch. You'll love the balance of tastes between the creaminess of the peanut butter dressing and the spicy crunch of the SunChips® Chili Lime Flavored Whole Grain Snacks.
Ingredients
Email ingredients list

Invalid email

Ingredients list sent!
Instructions
Cook soybeans according to package directions; let cool.
Meanwhile, prepare dressing for salad by combining peanut butter through crushed red pepper in a large microwave safe bowl. Microwave on HIGH 30 seconds; whisk well to combine. Add in slaw mix through cilantro; toss well to combine. Cover and refrigerate until ready to serve.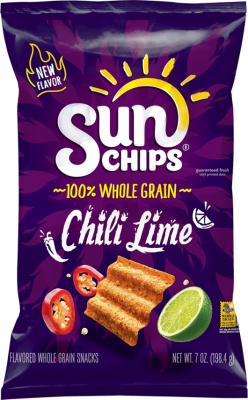 SunChips® Chili Lime
SunChips® Chili Lime