DORITOS® Nacho Cheese Bacon Potato Bake | More Smiles With Every Bite
DORITOS® Nacho Cheese Bacon Potato Bake
DORITOS® Nacho Cheese Bacon Potato Bake
Thank you!
Thank you for your submission for DORITOS® Nacho Cheese Bacon Potato Bake.
Your submission has been received and is under review. This ooey-gooey, cheesy Nacho Cheese Bacon Potato Bake is the ultimate holiday casserole.
Ingredients
Email ingredients list

Invalid email

Ingredients list sent!
Instructions
Preheat oven to 400°F(200°C). Grease a 12-cup (3 L) baking dish; set aside.
Peel and thinly slice potatoes (you should have 8 cups/2 L); transfer to a large bowl. Set aside.
Melt butter in a saucepan set over medium heat; whisk in flour. Cook for 2 to 3 minutes or until the mixture resembles a soft dough. Season with salt and pepper. Slowly whisk in 1 cup (250 mL) of milk at a time, whisking constantly, until all of the milk is incorporated. Cook, stirring, for 8 to 10 minutes or until the mixture is thick enough to coat the back of the spoon.
Reduce heat to simmer; stir in 2 cups (500 mL) of Monterey Jack cheese until melted. Remove from heat; stir in sour cream. Pour over potatoes; toss gently to coat. Fold in 1/4 cup (60 mL) bacon bits and 2 tbsp (30 mL) chives.
Transfer potatoes to the casserole dish, spreading evenly. Cover the dish with foil.
Bake for 60 to 70 minutes or until potatoes are tender. Remove foil; sprinkle remaining cheese, bacon, chives, and reserved DORITOS® crumbs over top. Bake for about 15 minutes or until golden brown and bubbly. Let stand for 10 minutes.
Stir-Ins (optional)
Substitute Cheddar for Monterey Jack cheese if preferred.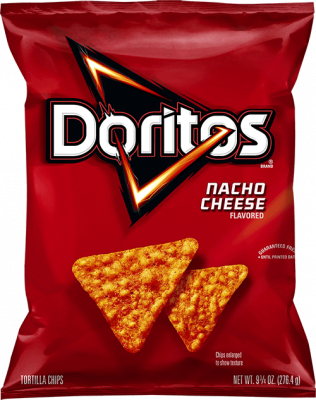 Doritos® Nacho Cheese Flavored Tortilla Chips
Doritos® Nacho Cheese Flavored Tortilla Chips