Grandma's Cookie Eggnog Milkshake | More Smiles With Every Bite
Grandma's Cookie Eggnog Milkshake
Grandma's Cookie Eggnog Milkshake
Thank you!
Thank you for your submission for Grandma's Cookie Eggnog Milkshake.
Your submission has been received and is under review. Ingredients
Grandma's Cookies Eggnog Milkshake
Cookie Rimmed Glass

Email ingredients list

Invalid email

Ingredients list sent!
Instructions
Grandma's Cookies Eggnog Milkshake
Place eggnog, vanilla ice cream, whole milk, cookies, cinnamon, nutmeg, and rum (if adding) in to a blender.
Blend, on high, for about 2 minutes or until very smooth.
Pour into prepared cookie rimmed glass.
Garnish with additional nutmeg and cinnamon as needed. Enjoy!
Combined crushed cookies and nutmeg on a small plate.
Place melted white chocolate on a small plate.
Dip rim of milkshake glass into white chocolate. Then into the cookies and nutmeg until fully coated.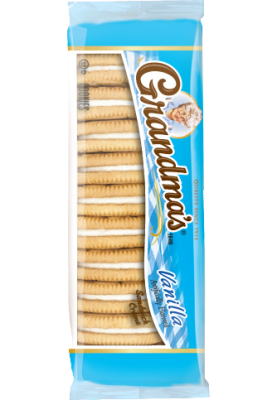 GRANDMA'S® Sandwich Creme Vanilla Flavored Cookies
GRANDMA'S® Sandwich Creme Vanilla Flavored Cookies