ROLD GOLD® Mini Holiday Cheese Balls | More Smiles With Every Bite
ROLD GOLD® Mini Holiday Cheese Balls
ROLD GOLD® Mini Holiday Cheese Balls
Thank you!
Thank you for your submission for ROLD GOLD® Mini Holiday Cheese Balls.
Your submission has been received and is under review. With Brie and blue cheese, these festive gourmet Mini Holiday Cheese Balls make an easy yet impressive holiday appetizer.
Ingredients
Email ingredients list

Invalid email

Ingredients list sent!
Instructions
In a food processor or blender, pulse 1 cup (250 mL) ROLD GOLD® Sticks Pretzels for about 30 seconds to make medium-size crumbs. Transfer to a small bowl, along with dried cranberries and pistachios; set aside.
Using an electric mixer, beat cream cheese and sour cream for 2 to 3 minutes or until light and fluffy. Beat in blue cheese and Brie until smooth and blended. Fold in half of the ground pretzel mixture.
Roll tablespoonfuls into 1-inch (2.5 cm) cheese balls. Transfer to a parchment paper–lined baking sheet. Refrigerate for at least 30 minutes or until firm. Roll balls in the remaining ground pretzel mixture.
Just before serving, arrange cheese balls on the serving platter; press the pretzel stick into the middle of each cheese ball.
Stir-Ins (optional)
Substitute chopped dried cherries for dried cranberries if desired.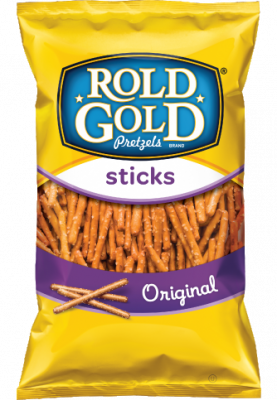 ROLD GOLD® Sticks Pretzels
ROLD GOLD® Sticks Pretzels