Carla Hall's PopCorners® Soul Nachos | More Smiles With Every Bite
Carla Hall's PopCorners® Soul Nachos
Carla Hall's PopCorners® Soul Nachos
Thank you!
Thank you for your submission for Carla Hall's PopCorners® Soul Nachos.
Your submission has been received and is under review. Ingredients
Pimento Cheese Sauce
Spiced Black-Eyed Peas
Cucumber Relish
Nachos

Email ingredients list

Invalid email

Ingredients list sent!
Instructions
In a medium saucepan, heat the milk over medium heat until almost boiling. Turn off the heat and add the PopCorners. Allow to steep for 30 minutes then strain, making sure to reserve the flavored milk. In a large saucepan, add the butter and melt over medium heat. Sprinkle the flour over the butter and stir to combine. Cook for 5 minutes. Gradually whisk in the milk and salt. Simmer, whisking occasionally, for 10 minutes, until sauce thickens. Add the salsa con queso and cook for 5 minutes, stirring occasionally. Add the pimentos, season with black pepper, and stir to combine. Keep warm on the stove until ready to serve.
For the Spiced Black-Eyed Peas
In a small bowl add the BBQ spice blend, salt and pepper and mix to combine. Place the black-eyed peas in a medium bowl, add 1 teaspoon of spice rub, and toss to coat.
In a medium bowl add the cucumber, onion, parsley, tomatoes, and dill and mix to combine. In a separate small bowl add the vinegar and olive oil and whisk to combine. Season with salt and pepper. Drizzle over the cucumber mixture and toss to combine. Season with salt and pepper.
Spread the chips onto a large platter, top with cheese sauce, black-eyed peas, and cucumber relish. Serve.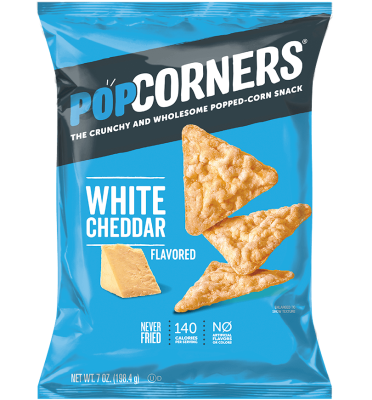 White Cheddar PopCorners®
White Cheddar PopCorners®