PopCorners® Sweet & Salty Kettle Corn Desert Nachos | More Smiles With Every Bite
PopCorners® Sweet & Salty Kettle Corn Desert Nachos
PopCorners® Sweet & Salty Kettle Corn Desert Nachos
Thank you!
Thank you for your submission for PopCorners® Sweet & Salty Kettle Corn Desert Nachos.
Your submission has been received and is under review. Ingredients
For the Cream Cheese Icing

Email ingredients list

Invalid email

Ingredients list sent!
Instructions
Whisk together the softened cream cheese, confectioners' sugar, vanilla extract, and milk in a small bowl. Place it in a decorating bag or a zip-top bag with the tip cut off.
Melt the chocolate chips in the microwave in 30-second increments, stirring in between until completely smooth.
Chop the strawberries in a small dice. Then toss them with the tablespoon of granulated sugar.
Arrange the PopCorners® on your serving plate.
Drizzle the cinnamon sugar chips with the melted chocolate and cream cheese icing. Then top with the chopped strawberries.
Top with a few squirts of whipped cream and serve immediately.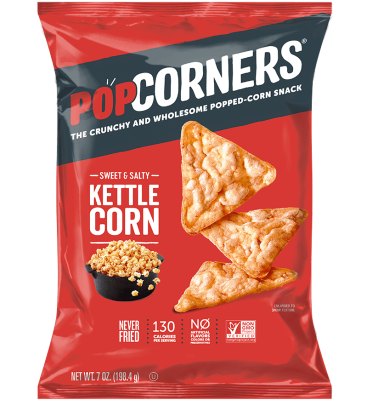 PopCorners® Sweet & Salty Kettle Corn
PopCorners® Sweet & Salty Kettle Corn