RUFFLES® Baked Potato Dip | More Smiles With Every Bite
RUFFLES® Baked Potato Dip
RUFFLES® Baked Potato Dip
Thank you!
Thank you for your submission for RUFFLES® Baked Potato Dip.
Your submission has been received and is under review. With bacon, cheese, and sour cream, this loaded baked potato dip with crumbled RUFFLES® is a tasty combination that results in a whole lot of yummy flavor.
Ingredients
Email ingredients list

Invalid email

Ingredients list sent!
Instructions
Preheat oven to 350°F (180°C).
Using an electric mixer, beat cream cheese for 3 to 5 minutes or until smooth; beat in sour cream, mayonnaise, and ranch dip seasoning and mix until blended. Folding Cheddar, green onions, half of the bacon bits, and jalapeño until combined. Fold in 1 cup (250 mL) RUFFLES® crumbs
Transfer to greased 4-cup (1 L) ovenproof dish. Bake on the middle rack of the oven for 15 to 20 minutes or until golden and bubbly.
Top dip with remaining RUFFLES® crumbs and bacon. Let cool for 5 minutes. Serve with remaining potato chips.
Stir-Ins (optional)
Substitute 1 to 2 tbsp (15 to 30 mL) buffalo hot sauce for jalapeño pepper if preferred.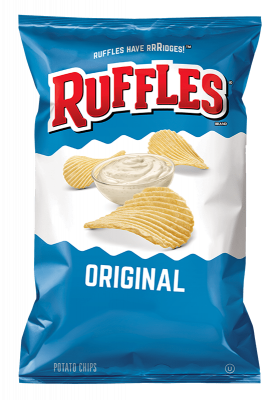 RUFFLES® ORIGINAL POTATO CHIPS
RUFFLES® ORIGINAL POTATO CHIPS